Dimensional Enameling with Anne Havel SEPT 25-28, 2019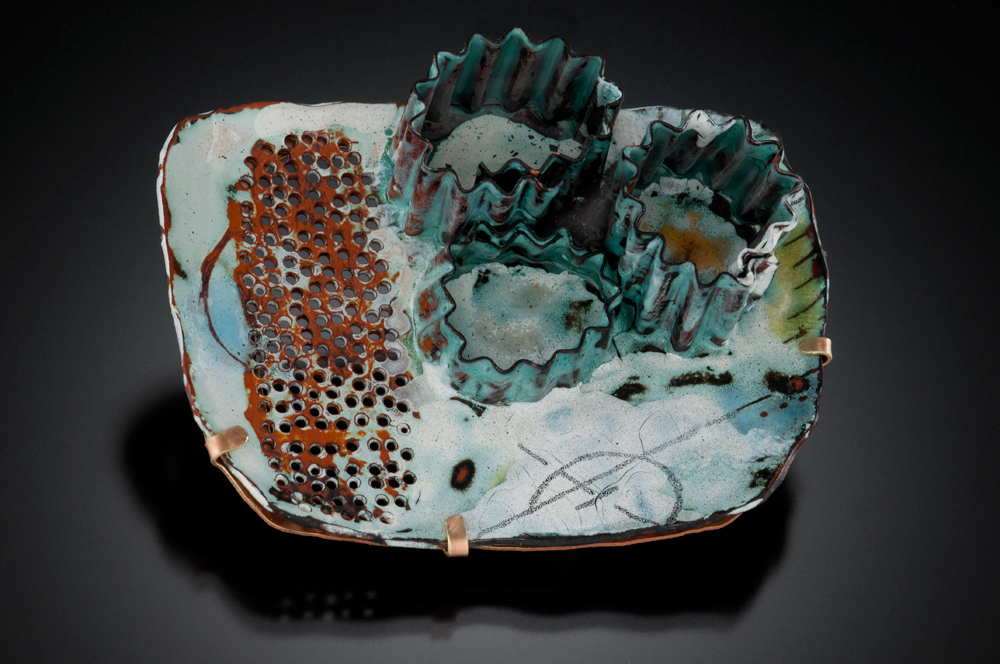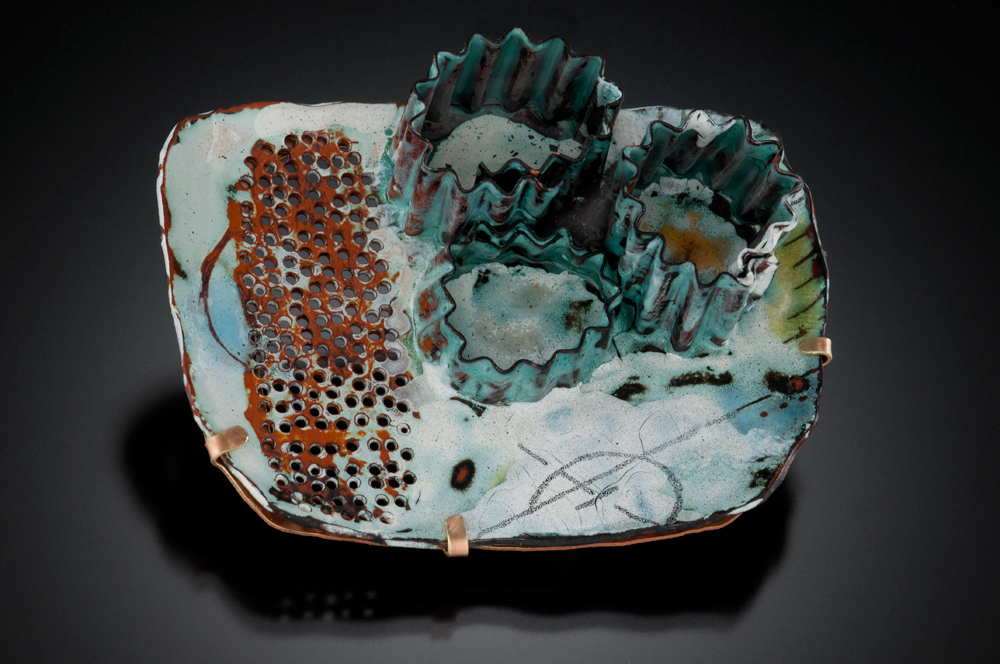 Dimensional Enameling with Anne Havel SEPT 25-28, 2019
September 25-28, 2019 (This is a 4 day class)
Instructor: Anne Havel
Class hours: 10 am-5 pm daily
Where: Genevieve Flynn Studio, Kansas City, MO
CLASS DESCRIPTION
Learn how to torch fire soldered, curved pieces from one of the most respected enamelists in the US. How to create a vision for a project, design and form it, then bring it to life. Basic enameling and soldering skills recommended.
There are many pieces that can be enameled, after soldering, if a torch is used rather than a kiln. Equal weight will be given to planning, forming/creating the piece in metal, and then enameling. Soldering skills will allow for more flexibility in design, and is highly recommended, but not necessary.
What will be taught (including skills covered):
ways of containing the heat so the enamels will flow and preserve the soldered seams

Preparation of metal, including forming, folding, soldering

use of liquid, powdered, and other enamels determining which is best suited for each application

different approaches to firing based on the size and shape of the piece

different ways of seeing/thinking/planning for more unusual setting/mounting options

planning each step before enameling begins
If time and desire permits:
exploration of enamel techniques, including: sgraffito, graphite, acid-etching, painting, sugar-firing, etc.
The Objectives/Intended Outcomes
enable students of enameling to be able to continue to torch-fire at home after the class.

Present new information about torch-firing, soldering, and/or enameling techniques that they may not have in their skill sets.

demo soldering/forming of pieces that will survive torch-firing

Inspire more people to pursue the art of enameling, generate enthusiasm, and increase the dialogue around the art-form, even if they choose to use their skills with a kiln.

Help each student with their vision, should they have one.

Learn from each other. Everyone has something to teach.

Preparation for the course
You may want to bring various gauges of copper sheet for flexibility of design: 18-28ga are useful. Least likely to use: 18ga. I also suggest, bringing magazines/images that have inspiring things you like, such as architecture, gardening, sculpture, homes, etc.
Please do not wear sandals, open-toed shoes, scarves or other clothing with tassels or loose ends that could get caught in tools or equipment.
STUDENTS SHOULD BRING TO CLASS THE FOLLOWING ITEMS:
Old magazine 1-2 to sift on and cut up
Dust/fumes mask. Anne purchased one on Ebay for $40(now $51). NORTH BY HONEYWELL 778 I P 100M, NORTH 7700 SERIES. EVERYONE NEEDS SIZE SMALL
Tinted eye protection (this can be purchased through Phillips. these glasses are specifically for protecting your eyes during the firing process. HIGHLY recommended) follow this link provided from the instructor https://www.phillips-safety.com/glassworking/glassworking-eyewear/shop-by-glass-filter/sodium-flare.html
Hand shears for cutting metal sheet
2-3 fine natural bristle paint brushes
ONLY PURCHASE BRUSHES IF YOU ARE GOING TO USE LIQUID ENAMEL OR PAINTING THE ENAMELS ONTO THE METAL
Blick Master Natural Brush-Round, 3/0 #05832-7030
(go to Dickblick.com)
Blick Master Natural Brush-Round, 0 #05832-1000
Copper Sheet 20, 22, and/24 gauge and/or copper shapes students might already own. Metals (sheet), wire, sheet strip, tubing etc. and/or materials you would like to use for your setting(s) Found objects, stones you like of appropriate size
Hard and medium solder
Dental tools for scratching
Cut off discs for making perfect tabs the same width for setting pieces (Rio #337-873) you will put 2 on the mandrel with little spacers/washers between. These are .006" thick so they break very very easily. Anne will explain to the keep them safe.
One sheet each of 150 grit and 220 grit sandpaper
Drill bits sizes 50-69 (Bring the sizes that you most commonly use. Some bits maybe availabe through Genevieve Flynn Studio but please come prepared.)
Saw blades 3/0 and 4/0 bring several dozen each
saw frame
Magnification if needed
Hand files, needle files
ANY HAND TOOLS THAT YOU DESIRE TO BRING. PLEASE NOTE THAT THE STUDIO IS AN INTIMATE SPACE SO LIMIT YOURSELF ON BRINGING ONLY WHAT YOU NEED.
Cut off discs for making perfect tabs Rio Grande #337-873
If you have transparent and opaque enamels that you would like to use please feel free to bring them along. Please not leaded enamels in the studio.
Sifters and trivets from Jean Van Brederode (717) 919-7444 She owns Enamel Warehouse You can order online or call her directly. (See below information for items needed)
The items listed below are the item numbers from Thompson, please give her the sizes needed
SIFTERS: 1/2" size (1 for each of the following mesh sizes 40, 80. 150)
1 1/4" (1 for each of the following mesh sizes 40, 80. 150)
Trivets: 1 - TPT-3 trivet
(2 pieces) Three point trivet 1 1/4"x 1 1/4"
(2 pieces) Three point trivet 2" x 1 1/2"
Items that you wish to incorporate into your setting with your enamel. If you want.
PLEASE KNOW THAT A CAT IS AN ADDED FEATURE IN THE STUDIO! (The kitty will not be in the classroom during the workshop but she does hang out with me on other days). If you are allergic to them then please come prepared with allergy medication. You will have access to a bathroom facility on the first floor, which requires you to climb stairs.
Please read the information below carefully before signing up.
As Genevieve Flynn Studio prepares in advance and expends money to do so, the class fee is non-refundable. If an extraordinary situation arises that one cannot attend such as illness, injury, family emergency etc. Genevieve Flynn Studio will discuss appropriate measures in terms of refunds.
SAFETY DISCLAIMER
Genevieve Flynn Studio is kept safe for all occupants. Compliance with all safety requirements are stressed and enforced. However, while working in and around the building, personal injury is possible. Students of Genevieve Flynn Studio agree to comply with all safety regulations set forth in this class description and agree to exercise appropriate personal safety precautions around studio equipment at all times for the safety of all persons. Students of Genevieve Flynn Studio agree to participate in this class at their own risk and that neither Genevieve Flynn Studio or Kevin Flynn, property owner, will be liable for personal injury sustained by students during class or on the Flynn property. By signing up for this workshop you, the student, agrees to abide by this disclaimer and cancellation policy.
SAFETY REQUIREMENTS WHILE WORKING IN THE STUDIO
Safety Glasses must be worn while working in the studio. If you wear prescription glasses, I recommend over the glasses style safety glasses. They can be purchased through Conney Safety. Conney.com
Equipment and tools are to be used only as prescribed and under the instructors direction/supervision
Long pants and closed shoes must be worn at all times
Long hair must be tied safely back/up
Loose clothing or jewelry is not to be worn
If you are asked to put long sleeves gloves or an apron on, it is for your protection so please do so
I highly recommend ear plugs or other hearing protection when participating in a class that has a high level of noise during participation or if you are sensitive to noises
About the Instructor
Anne has been an independent studio artist for 17 years, teaching workshops and exhibiting in juried fine craft shows.
Select recent exhibitions, collections, and publications:
2018 Invitational Exhibitions:
The Art of Enamelling/The Enamelling Technique, The Technical Museum in Brno, Brno, Czech Republic

2018 Blaze: International Art Enamel, National Taiwan Craft Research & Development Institute and Chinese Taipei Enamel Arts Association,

Contemporary Enamel, traveling to Turkey, Italy, and North Carolina
2017
Alchemy4, the Juried International Enamel Exhibition of The Enamelist Society

Art Jewelry Today 4

Lapidary Journal Jewelry Artist's "How to Enamel Jewelry"
Enamel Arts Foundation acquisitions for their permanent collection
Anne is currently Treasurer of The Enamelist Society, Pocosin Arts, and Enamel Guild North East.